Premium quality loyalty programme for independent retailers
---
Ground is a multi-location coffee shop in Brighton & Hove. Locals love the outstanding quality of its coffee, loose-leaf teas, and the warm, attentive service from its staff. When Ground was looking to build on its success, it turned to Matchbox to create a customer loyalty programme. The idea: to entice and reward customers in a way that reflected the unique personality and culture of Ground's much-loved stores.
Since approaching Matchbox we have been thoroughly impressed with the speed and efficiency of their delivery. The end product is much better than we ever imagined and really reflects our business.
What we did
We worked closely with Ground to design and create a mobile service that would attract new customers, while building deeper relationships with existing ones.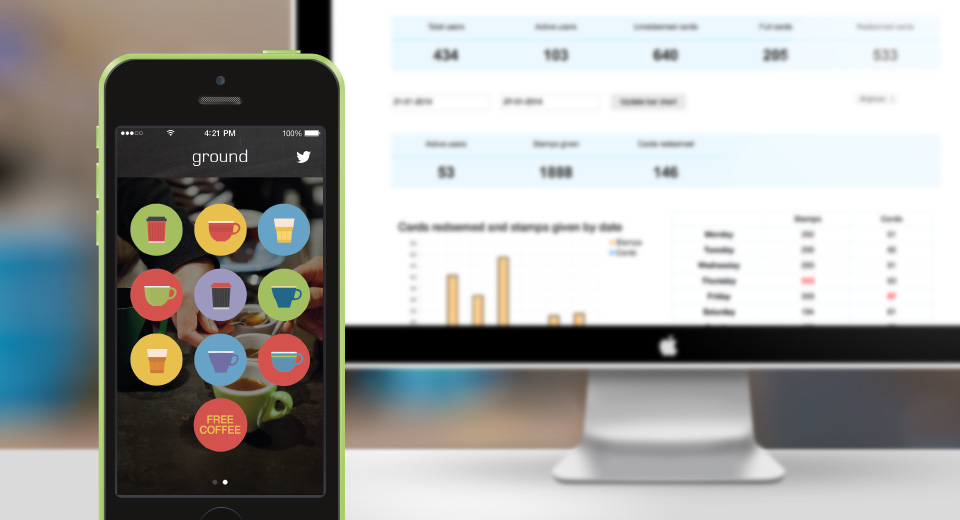 The app allows Ground to collect actionable insight data. Check-ins, reward stamps, redemptions and feedback are managed through the client dashboard, enabling Ground to run automated campaigns to its customer base. Now Ground has the in-store tools to:
Reward loyal customers with a birthday coffee.
Encourage weekend crowds to try mid-week specials.
Help fill seats in-store when it's raining.
How we did it
We quickly established five closely-related concepts that were essential to the app:
Make it snappy…
A loyalty program mustn't get in the way of the smooth running of a business. The last thing we wanted was to create delays and longer queues in-store. With this in mind, we produced an app that works without a data connection. This app features an inbuilt loyalty card, which allows Ground to keep track of the number of times a customer scans a QR code. It then lets the customer know as soon as rewards can be redeemed.
Keep it simple…
A good app never comes between a coffee shop and its thirsty customers. That's why we kept the sign-up process incredibly simple. In fact, a customer doesn't have to sign up at all, but those who do gain access to promotional offers and receive a birthday coffee on the house.
Be familiar…
An app's design should embody the distinctive qualities of the store it represents. In essence, the app should look and feel like an extension of the physical store. That way, regular customers feel instantly at home using the app. We listened to Ground's staff, taking their thoughts and ideas on board, to make sure we got it right.
Be inclusive…
A loyalty scheme should be for everyone. That's why we created apps for iPhone, Android and Windows Phone.
Make it affordable…
Small- to medium-sized businesses don't have a huge budget set aside for projects like this. In order to create an affordable solution for Ground, we developed our own loyalty platform and a suite of proprietary, re-usable app components. Our aim was to enable other businesses to have what Ground has: their very own surprisingly affordable customer loyalty scheme.
What we did
After just three months, 70% of Ground's customers were using the Ground app, and the baristas and shop staff were delighted with the results. Rick, the co-founder of Ground, said:
"Since approaching Matchbox about designing an app that would help us take our business to the next level we have been thoroughly impressed with the speed and efficiency of their delivery. The end product is much better than we ever imagined and really reflects our business. The app is clean, easy to use and highly intuitive, and has been a big hit with our customers. The Matchbox team has shown a sincere interest in our success and offered key advice for us in the planning and design stages. The fact that the company is full of such nice people is just icing on the cake."
Chris Tait, marketing director at Matchbox, says: "The first iteration of the app focused on loyalty, social features and capturing customer interactions. Work is underway to add mobile payment, gifting and remote ordering functionality."
---